Join our CSA for fresh produce all summer
CSA stands for Community Supported Agriculture. For over 25 years, this has become a popular way for consumers to receive seasonal, local food from farms. By purchasing a "share" of the seasons harvests in advance, it allows farmers the cash flow to purchase the items they need in the beginning of the season.
We aim to bring you 20 weeks of bountiful fresh produce, herbs and cut flowers. Below you will find the details of our farm share for the 2019 season and you can learn more about our produce and growing practices here.
FULL SHARE - 20 Weeks - $400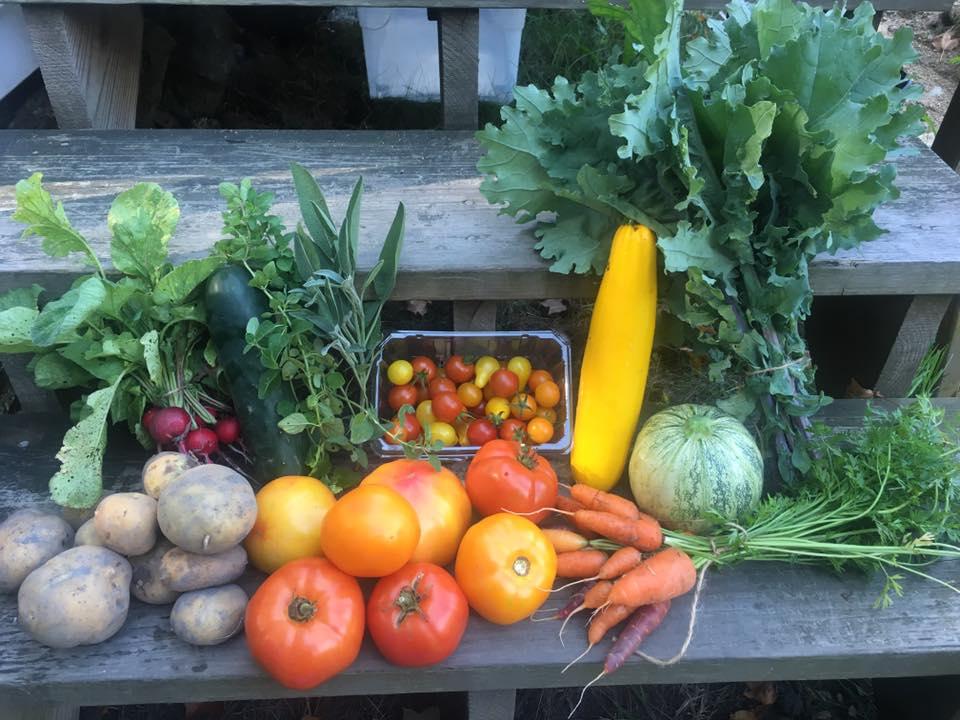 Full share containing potatoes, slicing tomatoes, cherry tomatoes, a large cucumber, Two types of squash, radishes, carrotts, assorted herbs, and a bunch of kale.
HALF SHARE - 20 Weeks - $200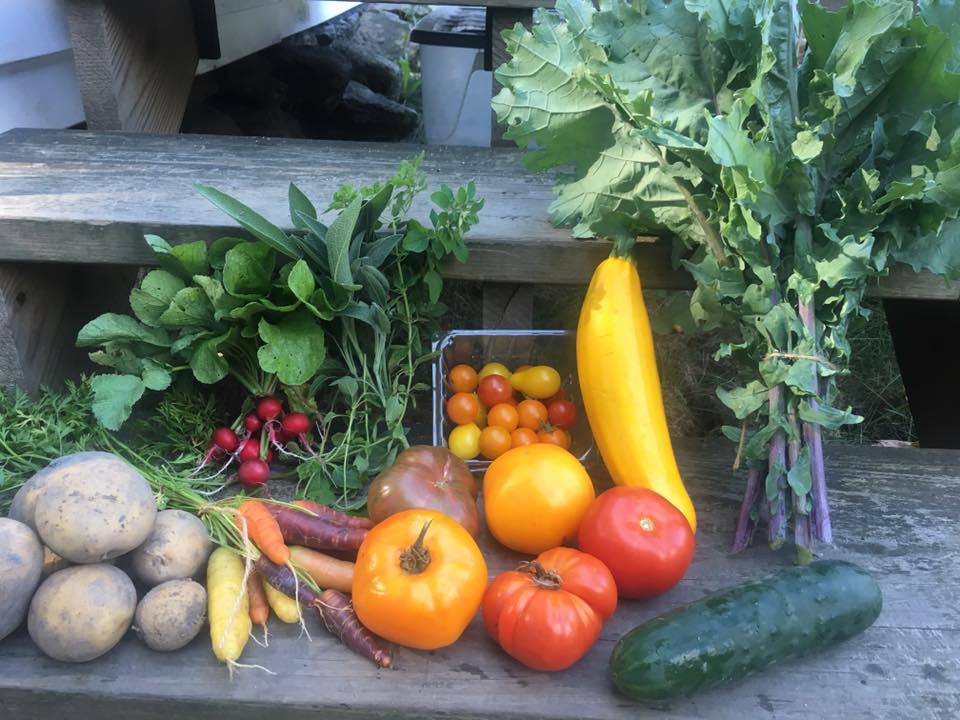 Half share containing potatoes, slicing tomatoes, cherry tomatoes, a cucumber, squash, radishes, carrots, assorted herbs, and a bunch of kale.
You can check out all of our share pictures from one season, here.
The Basics of Our CSA Farmshares
Projected 20 Week Season - June 8th to October 19th - 2019
We say projected, because we never know what mother nature has planned. The dates provided are our best guess, but as the season approaches we will update you on if we think we can start our season earlier. We also strive for a 20 week season, weather conditions could dictate a longer (yay!) or shorter season.Last year we had a 20 week season.
Farmshare Pick-up - Saturdays 10AM - 12 PM
Agreeing to participate, means making a commitment to pick up your share every week. Other share customers may be able to pick up your share for you on a week you are busy. First thing in the morning is the optimal harvest time for keeping produce fresh. We have chairs and tables set up and we encourage people to walk the farm, bring a coffee and enjoy your time with us.
Payment & How to Sign Up
We require a 50% deposit to reserve a spot in our farm share. The remaining balance must be paid before June 8th 2019. We also accept SNAP and can work with you to get paperwork filled out to do so. If you have a financial hardship, please let us know, we will never turn anyone away based on financial ability. If you have any questions, please e-mail kirby@jkgoodthymefarm.com or fill out the form below.
Other Benefits to Our Farmshare Members
Our share holders get other perks too! All members receive discounts and special pricing on other products we offer on farm. Enjoy 20% off any additional purchases. It's our way of saying thanks for supporting our farm. We also offer additional freebies at share pick up if we've got a bulk of something or know there is something you particularly like!